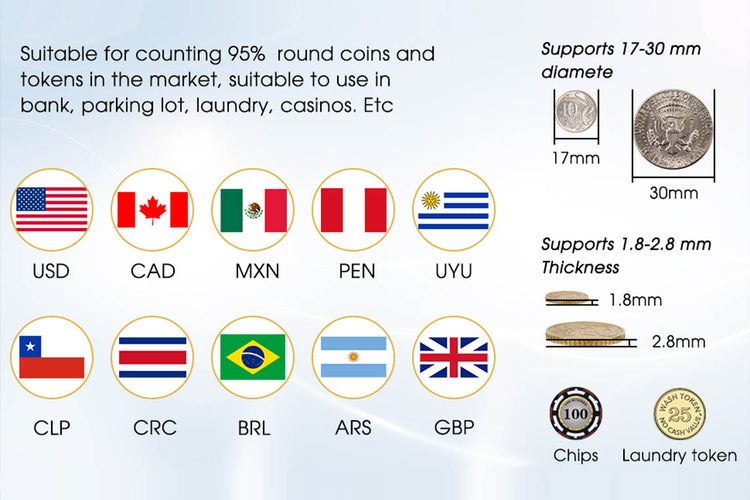 From small business store to big retailers that often deals with money, and trade in large amounts of cash, particularly coins, might find it tough to count them on a regular basis. The whole process of counting coins, and sorting them out is both a time-consuming and tedious task, especially when businesses are continually looking to save time and money. In situations like these what could be more helpful than using coin counter machines? An automatic coin counter machine will serve as the solution to all these problems as well as will provide many other advantages such as less human error and more precise counterfeit identification.
What is an automatic coin counter machine?
In a nutshell, a coin counter device swiftly calculates and arranges the number of coins by employing a mechanism designed to determine the diameter and thickness of a coin.
Many coin-counting machines include the sorting-off capability, which allows the machines to separate any denomination that does not match the size programmed in the device. Depending on the settings, certain devices can also distribute coins into bags. And fortunately, 99.99% of automatic coin counter devices are accurate at providing results.
Importance of using a reliable coin counter for a business
Businesses these days believe in providing fast service in the most efficient way. Whether you are running a business or just an operator at a shop that regularly deals with coins, getting a coin counter machine is a must. Now it's time to investigate the advantages of an automatic coin counter machine and how a reliable one can help your business.
Accuracy
When counting anything significant amount, it's prone to losing track on the number, and you may find yourself right back to square one. Having to count thousands and hundreds of coins would drive anyone insane. By employing an automatic coin counter machine, there will be no need to account for human mistakes; they will provide a precise result every time. Some machines also undertake self-examination so if there are any concerns with a count, the system will inform you instantly.
Another issue that arises when humans count money is the mixing of similar-looking coins or bills. When bills pass by, the machines read them, estimate their total, and display the outcome. An automated machine will not only save process by reducing the need to split bills into their appropriate denomination before accounting, but it will also prevent severe errors. When you purchase a counter, you gain increased precision, ensuring that your totals are presented correctly.
Efficiency
Efficiency is another key factor in any business. Time is money, as the saying goes! So, if there are ways that can save time and earn more profits, you're likely to choose to give that a try, coin counters are designed for efficiency and will save you time. Certainly, the systems count far faster than humans and can handle huge amounts of money at once. Simply feed the coins into your machine, and it will provide you with a figure in seconds, eliminating the need to double-check figures.
Another efficient way an automated coin counter machine can help your business is from employee theft. No matter how much you try, not all employees are honest. Corporate theft can contribute significantly to your firms' expenditures. Purchasing a coin counter should be included in your loss prevention approach. It is rather easy to hide some bucks for anyone when calculating coins by hand while no one's looking. Even if they are small amounts, they will pile up over time. There's no reason for you to be losing out. Let the machine take care of the counting and keep your money out of your employees' hands as much as possible.
Accessibility and feasibility
One of the primary advantages of having your own coin-counting device is that you might use it whenever you want. Assume you are the owner of an arcade. Your arcade shuts at 1 a.m., and you'd want to take a quick count of your earnings for the night. How could you find a coin counter around you at that time?
Banks and Coinstar kiosks are the two most common places to access coin counters. You'd be hard pushed to locate a bank open after 6 p.m., after midnight. Furthermore, the majority of Coinstar kiosks are located in grocery stores, which are rarely open 24 hours a day. Even if you discover a couple that is open 24 hours a day or a kiosk in a convenience store, you'll still have to make the trip and there's no assurance this kiosk is going to just be close to you.
With the easiness of access, the devices are extremely simple to use too. In many cases, all you have to do is put the coins onto the machine, and it will immediately begin counting and instinctively know when to stop. These devices will not need additional input validation. Many machines now include an LCD interface and keyboard to make the procedure even easier.
You Have Countless Possibilities
One thing you may have not recognized is that there are numerous coin-sorting machines to choose from, which implies you have a range of options when it comes time to invest in one. Also, automatic coin counter machines are a cost-effective option. You can optimize the profits for your company by identifying the correct model. That means more time and money saved for your company at every stage.  
Conclusion
An automatic coin counter machine might be an excellent investment if you are in the industry of counting currencies. They can save you a lot of time by swiftly collecting all the coins in a stack. A gadget that mechanically counts loose coins saves both time and money. It also provides an error-free way for counting huge sums of money. It could be the ideal option for your company.