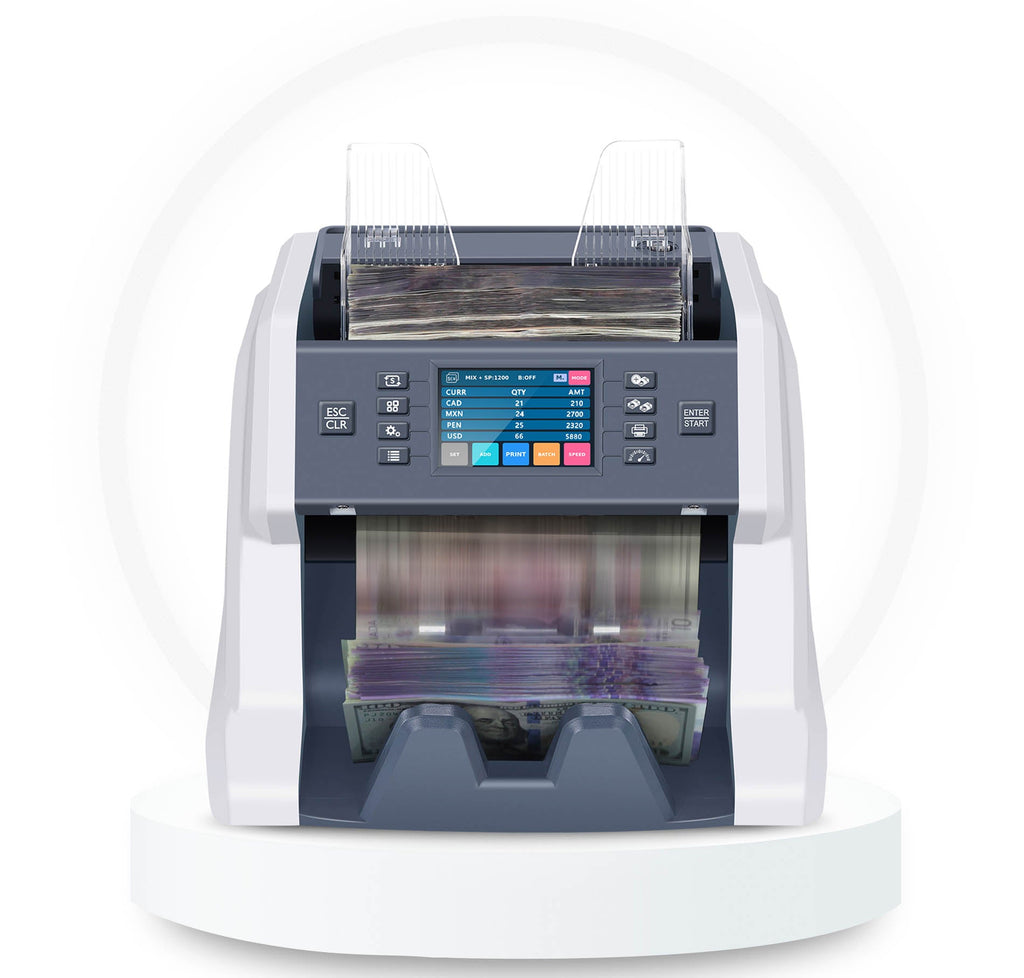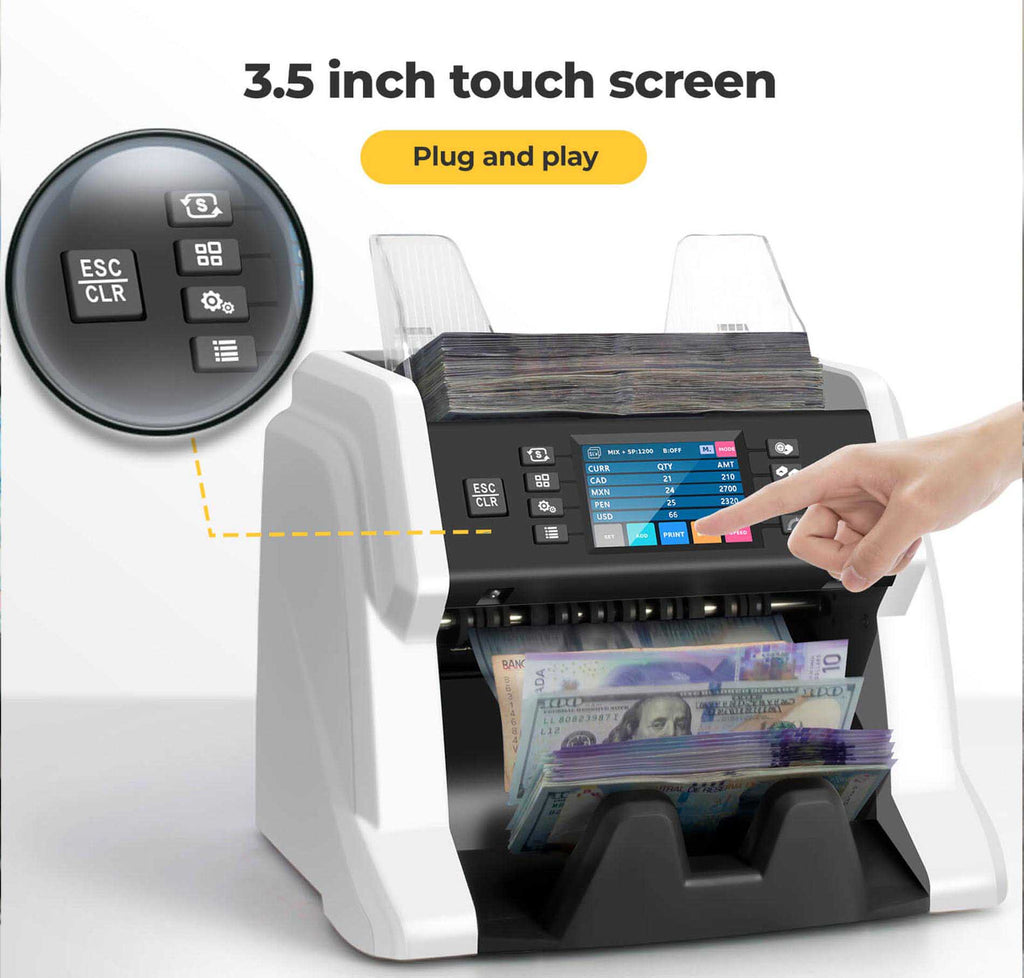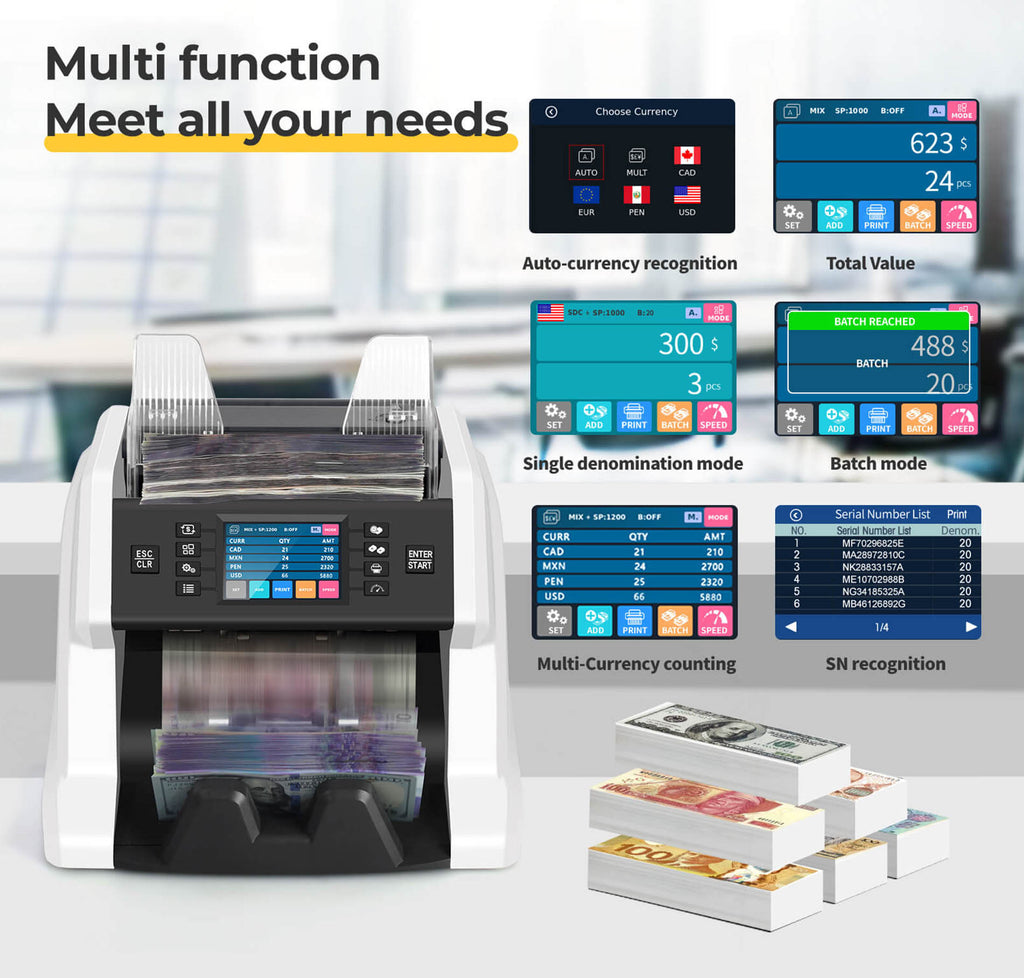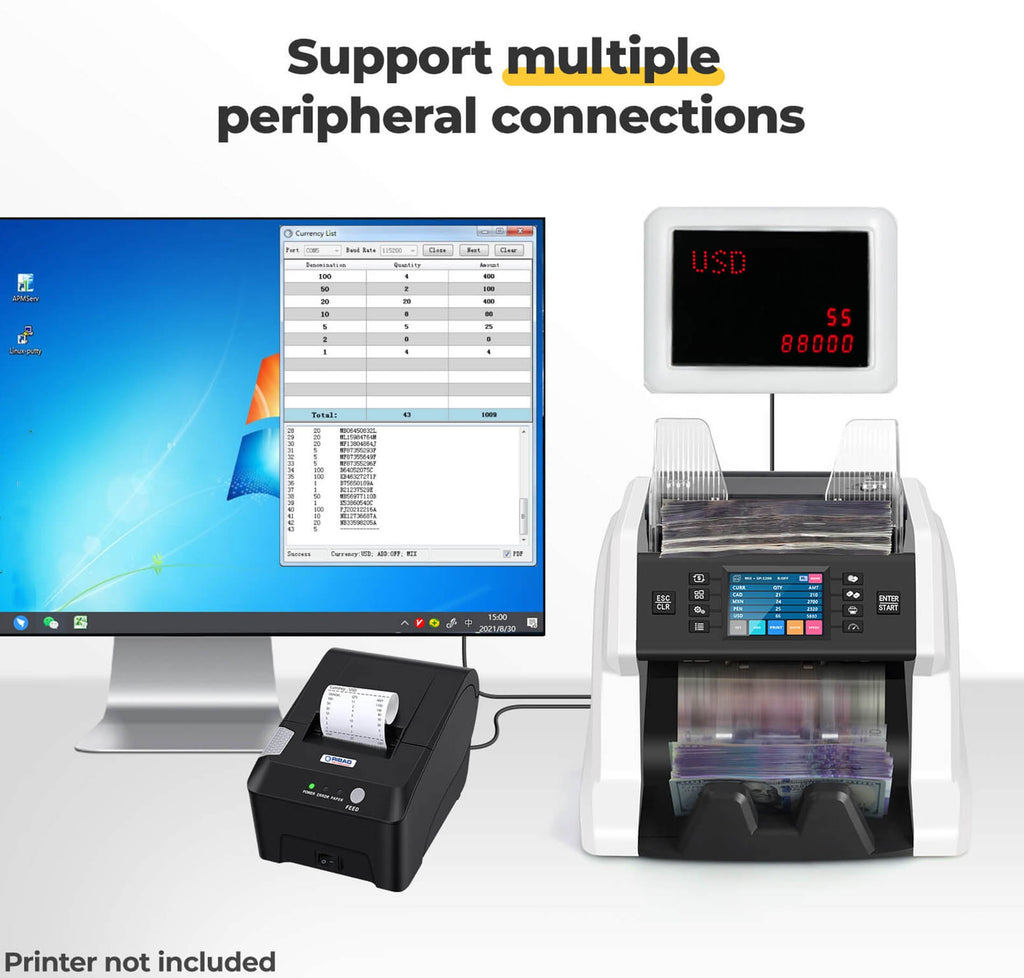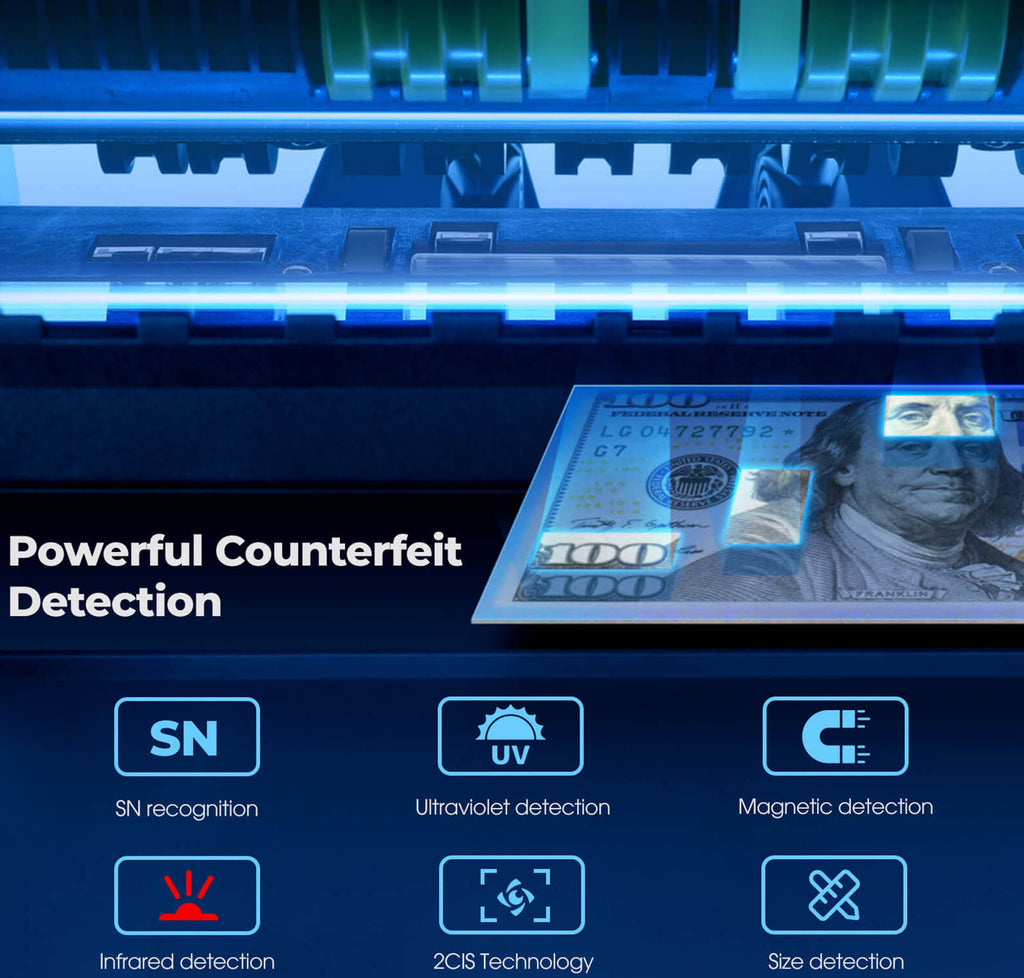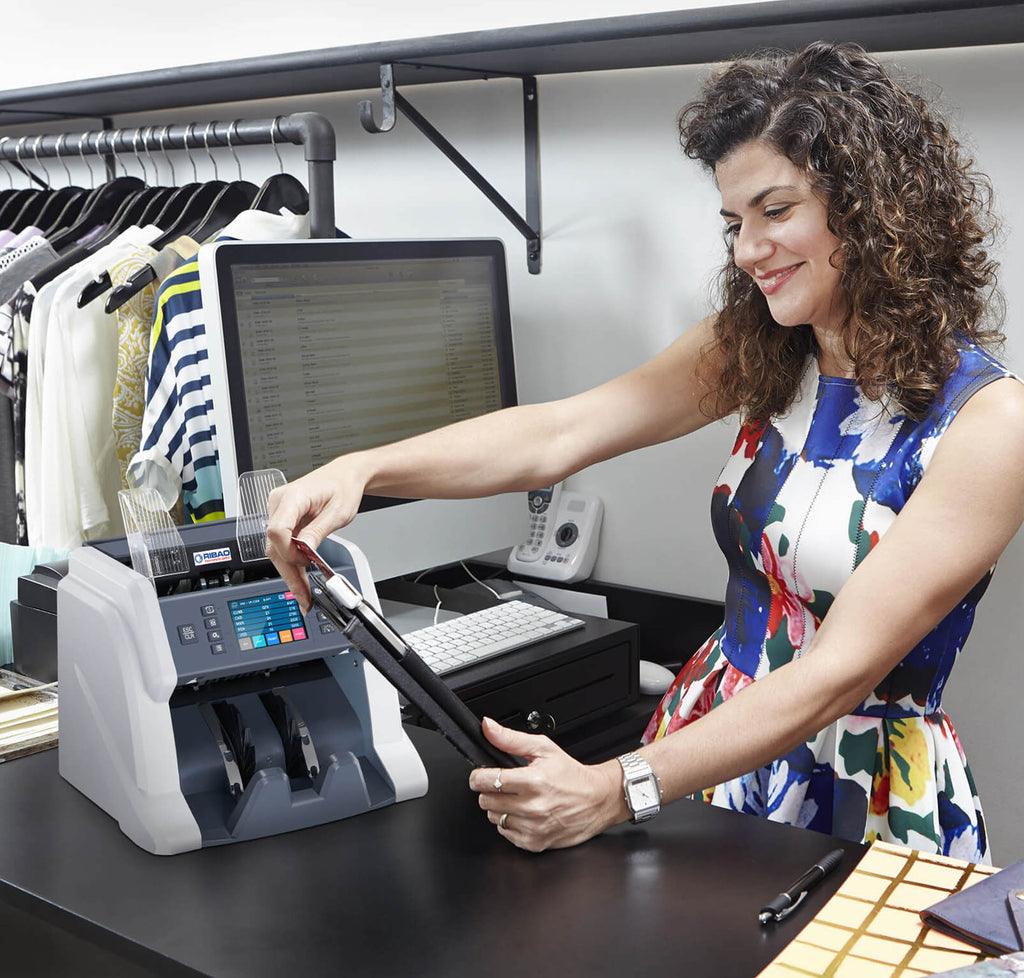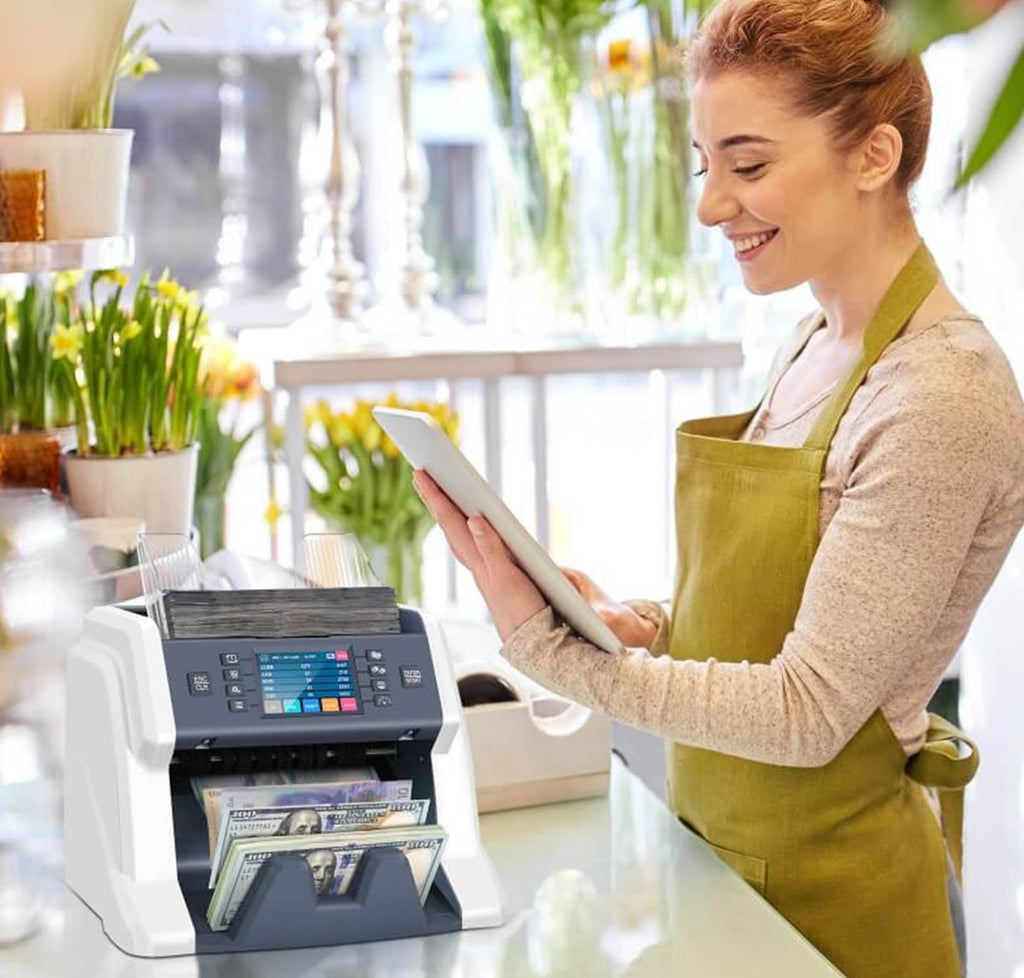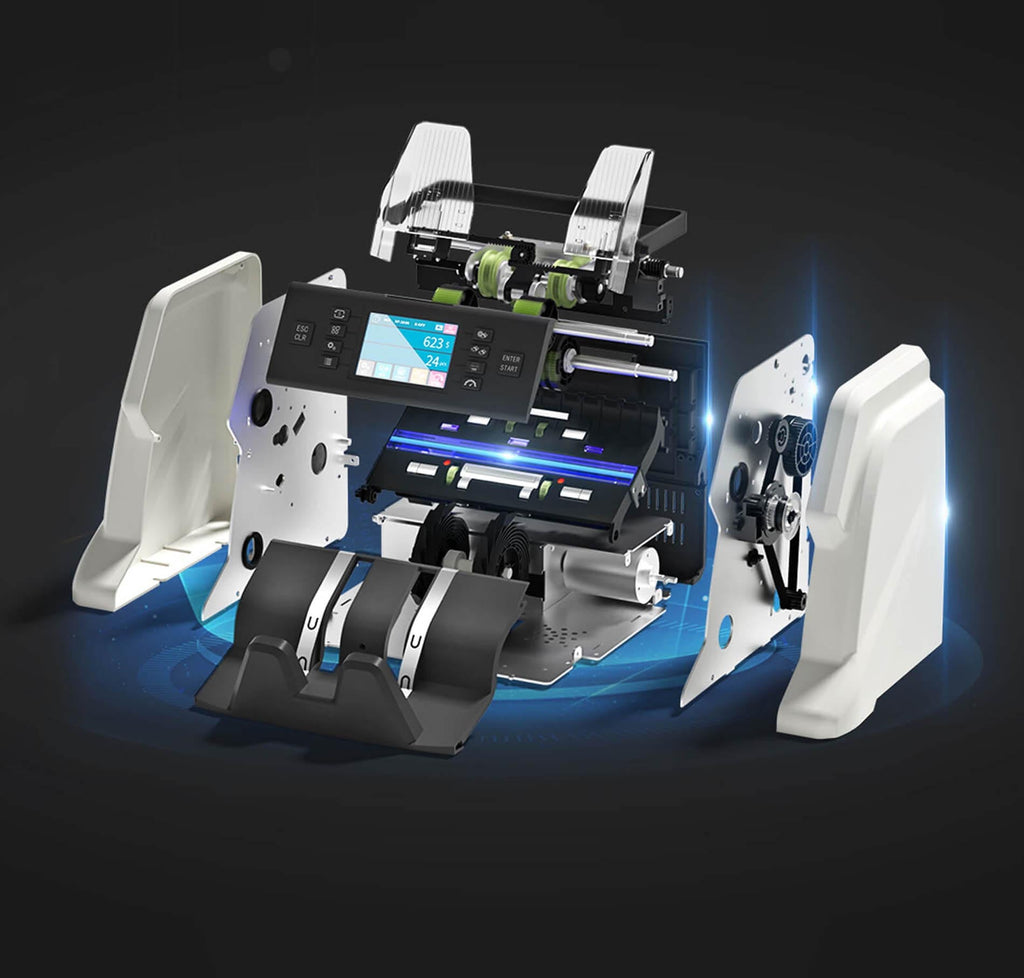 Zoom the image with the mouse
Refurbished Like-New Bank Grade Mixed Money Counter BC-55
Multi currencies: Support 32 currencies at once
Value counting: Read denomination
Serial number: Read serial number and output
Multi counterfeit detection:2CIS/UV/8MG/IR
Multi Currency Mixed Denomination Bill Value Counter with 2 CIS / UV / MG / MT / IR / Serial Number Recording.

Why Choose RIBAO BC-55 Mixed Bill Counter?
1. Calculate the Quantity and Total Value of a stack of mixed bills, save your effort and time when you deal with a heavy cash counting job.
2. Support to count worldwide currencies,32 currencies can be installed at the same time. The screen can show the counting details, including currency type, quantity, value, and total amount.
3. Serial Number record: Serial Number reading feature is very useful for money tracking and management. We can also provide a PC software for you to output the serial number and counting records to PC.
4. US based technical and service team, reply to your enquiry within 12 hours and provide a solution within 48 hours.
New generation Chip = Best performance
1. New generation Chip improves the performance by 40%,Capable of counting 32 currencies at the same time.
2. Record the US serial number at 1200pcs/min, faster than 95% of machines in the market.
3. Running on Linux system, Multi language Menu for selection, user friendly for South American and Caribbean customers.
(Ribao has been developed over one hundred currencies in the past 25 years.If you need more currencies, please contact us for firmware upgrade package.)
6 kinds of Counting Modes, meet all your needs
1. AUTO-CURRENCY mode: Sort a stack of mixed currencies by first bill's currency
2. MIX mode: count the quantity and calculate the total value of one currency
3. SDC mode: Sort a stack of mixed notes by first bill's denomination
4. Batch Mode: Process bills into bundles or customized quantity
5. MULTI mode: count the quantity and calculate the amount of mixed currencies
6. Serial number mode: Record and output each note's serial number
Professional in Counterfeit Detection
Double Channel High Resolution Contact Image Sensor:2 CIS up and down scans R, G, B, IR transmit and IR reflection image,Powerful Counterfeit Detection against Super dollar and 99.99% precision of Serial Number Reading
UV sensor:Detect the fake bill by checking the Fluorescence response
8 channels of Magnetic sensors:Full coverage of MG detection on US dollar
Double channel IR sensors:Inspect the thickness and width of banknote
What we provide?
Strong supply chain
Accepted orders can be put into production at once, deposits not necessary. With JustInTime production mode, Ribao Technology is able to deliver standard products within 1 week. Our strong supply chain promises no delay in our partners' sales activity.
Efficient service
Ribao Technology provides 24 hour response, 48 hour proposal, 72 hour solution. We also have branches set up in the United States and Europe to provide training service on site.
Professional support
Our team consists of professionals from top universities in China with over 20-year of research and development experience. Together we have created 38 technology patents internationally and sent Ribao Technology to a leading high-tech enterprise for 10 years.
Technical Details
| | |
| --- | --- |
| Hopper Capacity | 600pcs |
| Stacker Capacity | 200pcs |
| Currency Support | 12 currencies(Standard) 32 currencies(Option) |
| Display | Color TFT-LCD (3.5 inch),Touch Screen |
| Suitable Note Size | Length: 100mm~175mm |
| | Width: 50mm~90mm |
| Suitable Note Thickness | 0.05mm~0.12mm |
| Speed (pcs / min) | 800,1000,1200 (SDC MIX mode); 1500(CNT mode) |
| | 800,1000 (serial number reading mode) |
| RAM | 1G |
| Batch Number | 5-200pcs |
| Connectivity | USB for data collection and software upgrade |
| | RS232 for PC communication |
| | RJ 12 for external display |
| | WLAN for data collection and software upgrade in batch |
| | SD card for data storage |
| Counterfeit Detection | Ultraviolet detection(UV) |
| | Magnetism detection(MG) |
| | Metal thread detection(MT) |
| | Infrared image detection(IR) |
| | CIS image detection (double sides) |
| Counting modes | Piece counting (CNT) |
| | Value counting(SDC, MIX) |
| | Auto recognition |
| | Multi-currency mix counting |
| | Batch (5-200) |
| | Accumulation |
| Language Support | Different language for user's selection |
| Power Supply | AC 220V 50Hz ±10% |
| | AC 110V 60Hz ±10% |
Noise level
60-75DB
Power consumption

Standby≤15W




Operation≤50W

Working environment

Environment temperature(0~40°C)/humidity(40~90%)

Air pressure(70-106kpa)

Storage environment

Environment temperature(-40~55°C)/humidity(10~95%




Air pressure(70-106kpa)
Frequently Asked Questions
Does PC software for serial numbers file have an additional cost?
No, we do not charge extra cost for PC software. If you need this software, please contact our after-sale service team. The contact information is on the warranty card and product label.
What is the difference between BC-40 and BC-55?
A. BC-55 almost has no currency capacity limitation, BC-40 can support 4 different currencies at most
B. BC-55 has serial number reading function but BC-40 does not have
C. BC-55 has two CIS and is more stronger in counterfeit detection
Can I use BC-55 to sort mixed denomination bills?
Yes, under SDC mode, the machine counts and sorts the first denomination it recognizes, will stop to remind when detects different denominations.
BCS-160 two pockets money sorter would be a better choice for currency sorting, it has a reject pocket to hold other denomination bills and counterfeit notes, so it does not stop during counting and improve the money handling efficiency.
Can you upgrade the software if new bill released?
Yes, we can upgrade software for free if new version released.