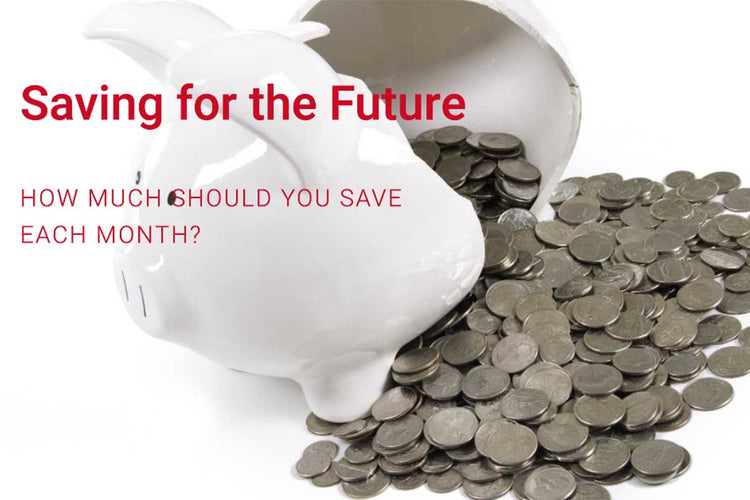 When it comes to the world of personal finance, the art of saving money is a crucial skill to master. But the million-dollar question is, how much of your income should you be setting aside each month? The answer to this question isn't a one-size-fits-all as it hinges on a number of factors. However, in this blog post, you can find a ballpark figure that works for you by examining the following aspects of your financial life.
1. Determining Your Debt Management Strategy
Your current debt situation will play a pivotal role in how much you can save. If you're not burdened by debt or can comfortably manage your repayments, then you're in the clear! You can skip this part and proceed to the next question. However, if you're grappling with significant debts, such as student loans, mortgages, car loans, or credit card debt, saving a substantial amount might pose a challenge. Strive to devise strategies to eliminate these debts ASAP and brace yourself mentally – repaying debts is often a marathon, not a sprint. Plus, actively working towards being debt-free not only alleviates the stress they induce but also paves the way for future savings and investments.
2. Analyzing Essential Living Expenses
Understanding your basic living expenses is crucial for determining how much money you should save each month. This is because only by knowing your basic living expenses, you can better determine how much money you can save each month after deducting these expenses.
Here are some common types of basic living expenses:
Rent or mortgage
Utilities such as water, electricity, gas, internet, and phone bills
Food and beverages
Transportation costs such as gasoline, maintenance, public transportation fees, etc.
Medical and insurance expenses
Children's education costs
Take a pen and paper and list your essential living expenses by category, then calculate the total amount. This can help you determine how much money you need each month to sustain your life. If you're having trouble calculating the total amount when listing these expenses, you can try our money counter calculator online! It makes calculating the numbers easy for you. Now, The money left after deducting these expenses is the money you can save. Simple, right? However, to figure out your optimal saving amount each month, you still need to take the following factors into account.
3. Balancing Lifestyle and Entertainment Costs
People invariably require some form of entertainment to enrich their life, create memorable experiences, or participate in social activities. Non-essential or discretionary expenses might include:
Purchasing expensive luxury items such as designer handbags, jewelry, high-end clothing, etc.
Traveling, especially luxury travel such as luxury cruises, private jets, high-end hotels, etc.
Dining at luxurious buffets or gourmet restaurants, such as Michelin-starred restaurants, high-end seafood restaurants, etc.
Attending high-end arts and cultural events, such as concerts, plays, ballets, etc.
Purchasing luxury vehicles, private jets, yachts, etc.
Joining high-end fitness clubs or golf clubs, enjoying private coaches and luxurious facilities.
Buying high-end furniture, decorations, artworks, etc.
Participating in high-end business gatherings, parties, or social events, such as private dinners, charity galas, fashion weeks, etc.
Although these entertainment expenses are not necessary, they can bring a high-quality life experience. If you find that these expenses are too high and bring financial risks and economic pressure, it might be time to reassess your spending habits. Consider dialing back these expenditures to make room for future investments and savings.
4. Building an Emergency Fund: How Much Should You Save?
An emergency fund is a reserve of funds set aside to deal with unforeseen or unexpected financial crises or emergencies. Having such a fund offers numerous benefits:
Dealing with unexpected emergencies: An emergency fund can be used to handle unexpected expenses or emergencies such as sudden illness, vehicle breakdowns, family emergencies, etc. With an emergency fund, you can avoid financial difficulties caused by unexpected expenses.
Avoiding debt risks: Without an emergency fund, unexpected emergencies may lead to unnecessary debt risks, such as borrowing or credit card overdrafts. With an emergency fund, you can reduce the risks of borrowing and credit card overdrafts, avoiding financial pressure caused by debt.
Reducing psychological burden: An emergency fund can provide a certain sense of security, reducing anxiety and stress caused by unexpected situations. With an emergency fund, you can deal with various emergencies more calmly, reducing personal psychological burdens.
Enhancing financial planning capabilities: Having an emergency fund can help individuals enhance their financial planning and management capabilities, better controlling their financial situation. With an emergency fund, you can face various financial situations more confidently and better formulate and implement financial plans.
Improving financial stability: Having an emergency fund can improve personal financial stability and reduce financial risks caused by unexpected situations. With an emergency fund, you can better cope with various financial situations and improve personal financial stability.
The amount of emergency funds to be reserved should be based on individual circumstances. It is recommended to reserve at least three months' worth of living expenses to ensure sufficient funds to cope with unexpected situations. For example, if your average monthly living expenses are $1500, you should aim to have at least $4,500 in your emergency fund.
5. Accessing Career Prospects and Income Stability
If you enjoy job security and a stable income, you might consider boosting your monthly savings to reach loftier goals. For instance, if you have a stable career with a high income, you might consider increasing your monthly savings to 20% or more of your income.
If your job stability and income are erratic, it's advisable to keep your monthly savings to about 10-15% of your income and prioritize building an emergency fund. Meanwhile, focus on landing a stable job and consider ways to ramp up your income. Here are some strategies to increase your earnings:
Improve your skills and knowledge: Learning new skills and knowledge can enhance your competitiveness and increase your income. You can improve your skills and knowledge through training courses, self-study, reading, etc.
Find higher-paying jobs: Seeking higher-paying jobs is an effective way to increase income. You can learn about and apply for higher-paying jobs through recruitment websites, social media, talent markets, etc.
Start a side business or part-time job: Starting a side business or part-time job can provide additional sources of income. You can engage in side businesses or part-time jobs through online sales, writing, design, translation, etc.
Entrepreneurship or self-employment: Entrepreneurship or self-employment can provide higher economic returns and autonomy. You can achieve self-employment through entrepreneurship, freelancing, opening an online store, etc.
Investment and financial planning: Investment and financial planning can generate higher returns and increase passive income. You can invest in stocks, funds, bonds, real estate, etc., based on your risk tolerance and investment goals, to determine your investment strategy.
Provide services or sell intellectual property: Providing services or selling intellectual property can generate higher income. You can provide consulting, advisory, design, writing, lecture services, or sell intellectual property.
6. Planning for Retirement: Have You Started?
If you haven't started planning for retirement, it may be time to consider it. Retirement planning refers to the financial reserves and investment planning individuals need to maintain their lives after retirement, aiming to ensure a stable living standard and financial situation after retirement.
7. Saving for the Future: Considering Family and Children's Financial Needs
If you have a family or children, their expenses must be taken into account when planning your savings. This includes the cost of education, daily family needs, and family activities or trips. Make sure you've set aside enough savings to cater to these needs.
How to Easily Save Money Using Apps and Coupon Websites?
Saving money can be a daunting task for many, especially if you don't have a clear plan or a reliable system. But don't worry, there are some apps and websites that can make saving easier and more fun. You will be introduced to some of the best tools that can help you save automatically, track your progress, and get discounts and cashback on your purchases. Whether you're saving for a specific goal, building an emergency fund, or simply improving your financial habits, these tools can help you achieve your savings goals. Let's get started!
[Digit]: This is a smart savings app that automatically transfers money from your spending account to your savings account based on your income and expenses. You just need to set your savings goal, such as travel, buying a house, or retirement, and let Digit do the rest. Digit analyzes your account balance and spending patterns daily and determines how much money to transfer to your savings account. It also sends you regular text messages or emails to update you on your savings progress and account balance. Digit charges a monthly fee of $5, but it also pays you a 1% annual interest rate, so you can earn some money back.
[Qapital]: This is another automated savings app that allows you to save money based on certain rules. For example, you can set it up to round up your change to the nearest dollar and save the difference every time you make a purchase, or you can reward yourself with money every time you complete a task. Qapital can also integrate with other apps like IFTTT, allowing you to save money based on specific triggers. For example, you can set it up to save $1 every time you post a social media update or $5 every time you walk 10,000 steps. Qapital charges a monthly membership fee ranging from $3 to $12 (depending on your chosen service level), but it also offers an annual interest rate ranging from 0.1% to 1.85% (depending on your chosen account type).
[Groupon]: This is a website that offers various coupons and group-buying deals to help you save money when shopping. Whether you want to dine out, watch movies, visit a spa, or travel, Groupon has coupons and deals that suit your interests. Simply search for the products or services you're interested in on Groupon, and choose the most suitable coupon or deal. Then, you can use the coupon or deal at the merchant to enjoy discounts or freebies. Groupon is free to use, but it has some usage restrictions and terms, so make sure to read them carefully before making a purchase.
[Rakuten]: This is a website that offers cashback services, allowing you to earn cash while shopping. Just sign up for an account on Rakuten and access the websites you want to shop from through its website or browser plugin. Rakuten will track your shopping behavior and give you a certain percentage of cashback. You can find thousands of partner websites on Rakuten, including Amazon, Walmart, Target, eBay, and more. Rakuten is free to use, but it has some minimum spending and cash-out requirements, so be sure to pay attention to them before using it."
Smart Ways to Save More Money Each Month
Enhancing your savings doesn't have to be a Herculean task. With a few smart strategies, you can significantly boost your savings.
Start by setting clear financial goals. Whether you're saving for retirement, a home, or a vacation, having a tangible goal can motivate you to save more.
Automate your savings. Setting up automatic transfers to your savings account ensures you don't miss out on saving each month.
Cut back on non-essential expenses. Do you really need that daily latte or the cable package with hundreds of channels you never watch? Cutting back on small expenses can add up to substantial savings over time.
Lastly, consider increasing your income. This could be through asking for a raise, switching jobs, starting a side hustle, or investing. More income means more potential savings!
Simple 20/30/50 Rule to Save Money Per Month
A simple and effective guideline for budgeting and saving is the 50/30/20 rule, proposed by Elizabeth Warren, a U.S. senator and personal finance expert.
50% of your income should go towards necessities, such as housing, utilities, groceries, and healthcare.
30% of your income can be allocated to wants, which includes non-essential items like entertainment, dining out, shopping, and other lifestyle choices.
20% of your income should be put into savings, which could be into an emergency fund, retirement account, or other savings account.
So, if you earn $4,000 after taxes every month, $2,000 should go towards necessities, $1,200 towards wants, and $800 towards savings and investments.
Further Reading: How To Apply The 50/30/20 Rule To Your Budget And Savings
Keep in mind that this rule serves as a general guideline and may not be perfectly suited for everyone's financial situation. Depending on your income, cost of living, and financial goals, you might need to adjust these percentages. For instance, if you live in a city with a high cost of living, you might need to allocate more than 50% of your income to necessities, which would necessitate reducing your spending in other areas.
Conclusion
These are some of the factors you need to consider when deciding how much money you should save each month. The final answer may vary from person to person because everyone's situation and goals are different. However, by answering these questions, you can have a clearer understanding of your financial situation and make wiser decisions. Remember, saving is a habit, and once you have a good saving habit, you have taken the first step towards financial freedom.
Frequently Asked Questions
1. How much should I save each month if I have debt?
If you have debt, it's crucial to strike a balance between saving and paying off your obligations. While it's essential to save for emergencies and future goals, it's also important to prioritize debt repayment. Consider allocating a portion of your monthly income to both savings and debt payments. Consult with a financial advisor to determine the best approach for your specific situation.
2. Should I save money for retirement or other goals first?
Retirement should be a priority for everyone, regardless of age. The earlier you start saving for retirement, the more time your money has to grow. However, it's also important to balance retirement savings with other financial goals. Consider contributing to your employer's retirement plan, such as a 401(k), and explore other investment options to diversify your savings.
3. How can I stay motivated to save money?
Saving money can sometimes feel challenging, especially when faced with temptations to spend. Here are a few tips to stay motivated:
Set specific, achievable savings goals.
Automate your savings by setting up automatic transfers from your paycheck to a savings account.
Reward yourself when you reach milestones along the way.
Track your progress regularly to see how far you've come.
Remember, saving money is a long-term commitment, and it's okay to start small. The important thing is to develop a habit of saving consistently.