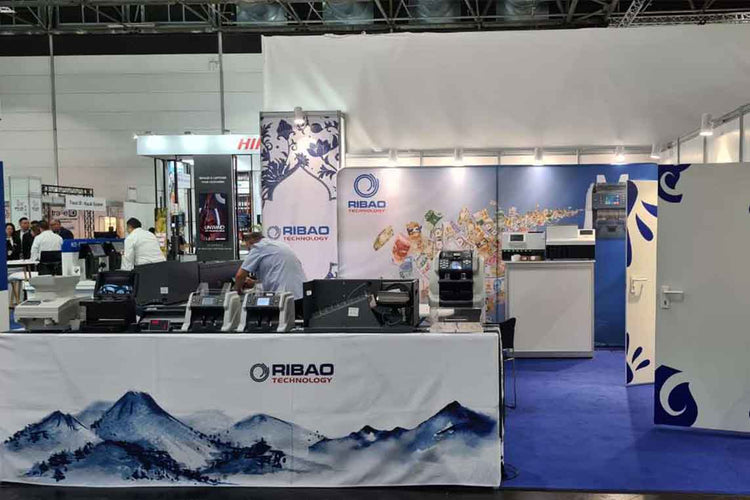 Introduction
Ribao Technology, a leading manufacturer of cash processing equipment, recently showcased their high-tech products, including cash counters and coin sorters, at EuroShop 2023 in Düsseldorf, Germany. The event was a resounding success for Ribao Technology, with the company receiving widespread recognition for their cutting-edge technology and innovative designs. 
EuroShop is a major international trade fair for retail investment requirements, attracting participants from all over the world. The event provides an opportunity for manufacturers, retailers, and other professionals in the retail industry to network, exchange ideas, and showcase their products and services. This year's event attracted more than 100,000 visitors, with over 2,000 exhibitors representing 60 countries.
Ribao Technology's booth was a highlight of the event, with a stunning display of their latest cash processing equipment. Visitors were impressed with the company's range of products, which included high-speed currency counters, coin sorters, and counterfeit detectors. Ribao Technology's products are known for their accuracy, speed, and reliability, making them ideal for use in banks, retail stores, and other cash-handling operations.
In addition to showcasing their products, Ribao Technology also used the event as an opportunity to connect with potential customers and partners. The company's representatives were on hand to answer questions, provide demonstrations, and discuss the latest trends and developments in cash processing technology. 

Interview highlights On EuroShop 2023
Here are some exciting interview highlights from the exhibition:
Host:Welcome everyone to the interview with Suzhou Ribao technology, an expert in cash handling equipment for over two decades. Today, we have specially invited three of their top professionals who have more than 30 years of experience in this field to share their unique insights and ideas. We look forward to their arrival!
Host: In an increasingly cashless world, what strategies is Ribao Technology currently employing to tackle the challenge?
DAVID: Although cash usage is slowly waning, this presents both a challenge and an opportunity for us. In recent years, we have been focusing more on the niche area of desktop money counters. We stay competitive by focusing on specialization, offering more flexible product supply. By keeping ahead of the curve, we can offer the best solutions to meet customer needs at the most cost-effective price.
Host:Despite the pandemic already being over, its economic impact is still being felt around Europe and the world. How does Ribao view this situation?
Curt: After three years of the pandemic, it's impossible for the world markets to return to the same as before. There are both crisis and opportunities, and during these past three years, Ribao has been devoted to improving the efficiency and effectiveness of existing systems and products through micro-innovations. So in 2022, we still be growing against the trend. I firmly believe that with our 27 years of accumulation, as long as we persist in providing good services and customer support, and with the support of Chinese manufacturing, we can have optimistic expectations for future development in this field.
Curt: I'd like to introduce Eric, our newest member. He has over 30 years of experience in the industry and brings a wealth of knowledge. Let's hear what he has to say!
Eric:Last year, when I moved from a German company to Suzhou Ribao Technology, I firmly believe that our persistence in cash handling is valuable. All three of us have more than 30 years of experience in this industry, and I hope that our experience, combined with the enthusiasm of the young Ribao team, will enable Ribao to have sustained growth for the next 10, 20 years... At the same time, we welcome old and new friends in this industry who are confident in exploring opportunities in the cash handling sector to join us in pursuing development opportunities.
Conclusion
Ribao Technology's participation in EuroShop 2023 was a great success, as the company received widespread recognition for their innovative products and commitment to excellence. The event provided an opportunity for Ribao Technology to connect with potential customers and partners, and to showcase their latest products to a global audience. This was a testament to their leadership in the cash processing industry and their commitment to innovation and customer satisfaction. Ribao Technology's impressive range of products and cutting-edge technology continue to set the standard for excellence in the industry, and we look forward to seeing what the future holds for this dynamic and innovative company.