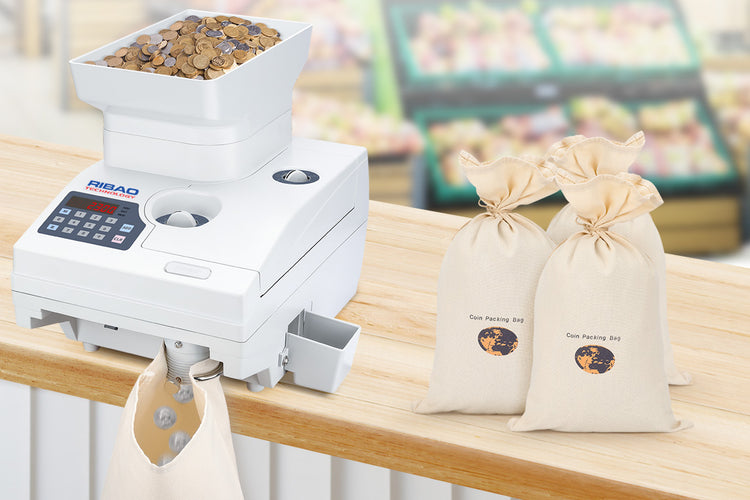 If you are running a business where you have to deal with numerous coins in front of you every day, it is impossible to count the coins and sort them manually on your own. It is hazardous and time-consuming. That's why you will need a professional coin handling equipment or a coin counter that can help you to count and sort coins of mixed denominations easily. These machines are specially built for sorting different denominations without any hassles so that you can invest your time in something more important. By simply adjusting for diameter and thickness, coin counters can proficiently organize dollars, quarters, dimes, nickels, half dollars, and pennies.
What are coin counters?
In short, coin counter machine count coins. By using a mechanism set to determine a coin's diameter and thickness, these machines quickly calculate the number of coins and sort them. There are several models in the market, and you have to choose whether you need larger industrial machines or machines for small or mid-sized businesses. Many coin counting machines come with the feature of sorting-off, in which the machines can sort out any denomination which doesn't match the size programmed in the device. Some machines can also dispense coins into bags based on the settings. 
What are the main benefits of using coin counters?
There are several benefits of using these machines, and some of them are mentioned below:
They are time-saving so that you can invest your time in something that will help your business to grow.
It saves manpower as you would not need someone to take care of the coins and sort them separately.
Prevents counterfeit coin acceptance.
Requires minimum human interference, and that's why it is more secure. 
It eliminates the hazard of coin counting.
There are several options for coin counters in the market, but you must choose the best one for your business. Let's discuss some points you should consider while choosing the best counter for your business. 
Who uses coin counters?
Coin counters are not just for banks and financial institutions. Retailers, restaurants, vending machine operators, and any business that deals with a significant amount of cash transactions can benefit from the efficiency and accuracy of a coin counter. These devices streamline the cash handling process, ensuring that daily takings are accounted for without the laborious task of manual counting. For a more in-depth look at these versatile machines, consider reading The Ultimate Guide To Coin Counter Machines, which provides comprehensive insights into their functionality and benefits.
How to choose the best coin counter machine?
Selecting the ideal coin counter for your business involves several considerations:
Understand your requirements
For choosing the best coin counter machine for your business, you have to understand your requirements properly. Understand how many coins you will need to count or sort daily. With the basic models, you will be able to count hundreds of coins, but if you are willing to choose a machine to count thousands of coins per day, you have to go for big-industrial, heavy-duty machines. Understanding your requirements is very important.
Understand your terms of speed
You'll need to understand how fast you need the coins to be counted for you. Some heavy-duty models can count up to 2000 coins per minute, but if you own a mid-sized business, You can opt for a device that can count between 250 to 300+coins per minute. It entirely depends on your speed requirements.
You'll never want to invest your money in a machine that cannot offer you accurate outputs. If you need to check the outputs manually all over again, there is no benefit of using a professional machine. If you continue using an inaccurate machine, you can end up losing money. Always go through the reviews and opt for a machine that has a high accuracy rate.
Go for a counter that can hold different currencies. If you purchase a counter that can only count dollars, you will need another counter to count your penis or dimes. That's why you should always go for a counter for your business that can efficiently hold different currencies.
It will be wise to purchase a device that counts and sorts the coins at once. It will not only offer you efficient performance but also will save you money and time. 
Always make sure to consider the warranty of the counter. Every electronic device comes with a guarantee that makes sure that the product is designed to last that long, and if anything happens during the warranty period, the company will take responsibility for that product. A coin counter or sorter should have a warranty period of at least six months.
Everyone should consider the price while purchasing a coin counting machine. Compare prices from different vendors and also make sure that you can get value for money. Don't go for the cheapest option but make sure that the product comes with all the features you need at a reasonable price
You'll never want to purchase a machine that is extremely complicated to use, so you should always go for the models that are simple to use. Check how easy it is to work with that model before purchasing it.
Though these are the primary points you should consider while choosing the right coin counter for your business, there are some additional features that you can also consider as these features enhance the machine's efficiency.
Some counters and sorters can transmit the values of the currency to a different printer for bookkeeping and audit purposes. If you have a busy schedule, this feature can help you to save time. 
In the era of fraud, counterfeit money or coins are matters of concern. Quality coin counters offer the technology that can easily sort-off counterfeit coins so that you don't need to take any headache thinking about that. It is an essential quality that you should have in your counter.
Coin counters have become an inseparable part of business nowadays, and it is also one of the most important business tools as it eliminates the accounting hazards of the business. If yosuou are looking for a high-quality and efficient coin counter machine to count, sort, and roll your coins, we, the team of Ribao Technology, are at your service to provide you with that. Here you can get heavy-duty, efficient, high-speed, and highly secured counters for your business. We have highly knowledgeable technicians and team members who make sure to offer error-less coin counting machines to the customers that are checked in a real-time environment. We offer our customers these amazing machines at an affordable price for complete satisfaction. For more information, contact us today!